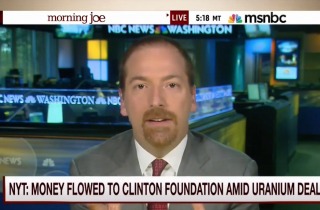 NBC's Meet the Press moderator Chuck Todd is baffled by the Clinton family's seeming lack of concern about their foundation's foreign donations before Hillary Clinton accepted a position in the Obama administration years ago.
On Friday, the Wall Street Journal editorial board launched an incisive attack on Clinton, who is now running for president her second time, after documents revealed that the Clinton Foundation received large donations from a Russian group at the same time they were attempting to gain majority stake in Uranium One, a deal on which Clinton's State Department had to sign off.
While Todd, who appeared today on Morning Joe, thinks the resultant scandal is largely "circumstantial," he went off on the Clinton family's lack of concern for "political judgment" when making decisions such as the above.
Before Clinton was confirmed as Secretary of State, Todd recalled, several Obama administration officials and congressmen warned that the Clinton Foundation may give off the appearance of influence-peddling. "How many more warnings did the Clintons need to have and yet they ended up doing these things?" Todd asked. "It's politically though just dumb and inept."
Even though the Clintons have defended their foundation's controversial donations, and charged that no one can "buy" influence from the powerful family, Todd said, "the appearance of it is terrible."
"I'm surprised someone hasn't said you know what, no foreign governments for any presidential libraries," he continued. "Bush Libraries have been built by foreign money, Clinton Library and Foundation with foreign money — the appearance is just too awful."
Watch below, via MSNBC:
— —
>> Follow Andrew Kirell (@AndrewKirell) on Twitter
Have a tip we should know? tips@mediaite.com