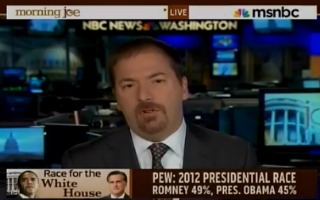 NBC News' Chief White House Correspondent Chuck Todd revealed today on MSNBC's Morning Joe that he is hearing rumblings that President Barack Obama's Chicago-based reelection team is eyeing a possible personnel shakeup. If a major staffing change was in the works at Obama for America, it could reset the media narrative which is currently focused on the president's poor performance at last week's debate against GOP nominee Mitt Romney.
RELATED: Don Lemon Dismisses Obama Supporters' Excuses, Offers President Direct Advice
"What do you hear about the cold hand of fear grabbing Chicago," Mike Barnicle asked Todd.
Todd agreed that the campaign was focused on the president's debate performance and had begun to internalize the impact of that debate and plan to mitigate the ensuing negative fallout. "Whenever there is a bad moment in a campaign, than suddenly fingers begin pointing," Todd said.
Todd said that some of the reaction from Obama campaign reported in the press comes from individual staffers who do not want to take the blame for Obama's lackluster showing. However, Todd said that he is hearing from sources that a staffing shakeup may be in the works.
"I think you're going to see internally – you know, they never like to show that anything has changed, that nothing rocks the boat over there. But I'm hearing chatter that maybe some people from the last campaign is going to get a little more involved – at least, in the debate prep aspect of things," Todd said.
Watch the clip below via MSNBC:
> >Follow Noah Rothman (@Noah_C_Rothman) on Twitter
Have a tip we should know? tips@mediaite.com