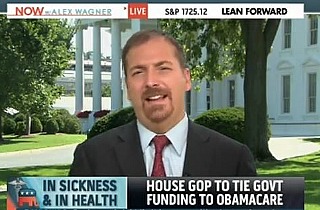 As the brinkmanship among Republicans in Congress accelerates toward what could result in a government shutdown if a resolution to fund the government but defund the Affordable Care Act passes, political observers are beginning to game out possible resolutions to this conflict. On Thursday, NBC News Chief White House Correspondent Chuck Todd predicted that there will be a brief government shutdown, with all the fallout that would entail for the GOP, but only for up to 48 hours before the political damage becomes evident to Congressional Republicans.

"It's amazing to me you have leaders, none of whom — all of them know it a bad idea, bad for Republicans, they don't want to risk it," Todd asserted.
"Nobody seems to want it and yet I don't know how they avoid it, at least for a couple of days," he continued. "That's what I keep envisioning, some sort of 48 hour shutdown or 24 where there's some small version of this."
RELATED: Who's Really 'Threatening Default'? Carney Spars with ABC's Jon Karl Over Gov't Shutdown
"I've had House Republican aides say this to me before in previous fights, sometimes they have to educate some of these members, how it will play out, how they would believe it, they don't have to see it for themselves," Todd revealed.
Chris Hayes and Todd marveled at how the budgetary parameters based around sequestration, which was designed to be an unpalatable idea which would be opposed by both major parties, has become the "consensus position" among Democrats and Republicans in Congress.
Todd added that the current fight is not even over a budget, but a continuing resolution which would fund the government as a stopgap measure. Congress last passed a budget on April 29, 2009.
Watch the clip below via MSNBC:
[Photo via screen grab ]
— —
> >Follow Noah Rothman (@NoahCRothman) on Twitter
Have a tip we should know? tips@mediaite.com