Chuck Todd Questions Axelrod: Are Politics Behind White House 'Dragging Its Feet' On Libya?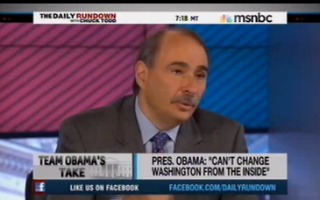 On Friday, Obama campaign senior strategist David Axelrod sat down with Daily Rundown host Chuck Todd to discuss the President's comment about not being able to change Washington from the inside. Axelrod didn't find the comment "tough to hear," explaining that "the way to move this Congress and the way to move this town is to enlist the American people."
When Todd asked whether this was more of an argument for a challenger to make rather than a sitting president, Axelrod pointed out that Romney had actually said something quite similar as well.
Axelrod then accused Romney of putting out a "meaningless" number when it comes to job creation, and that the President, by contrast, has a an "ambitious," yet practical, plan for helping the economy.
As for the recent fatal attacks in Libya, Todd told Axelrod that it seemed as if "everybody else had a version of the story and the White House was pushing back on it." very late yesterday the white house says, okay, it was a terrorist
"When you're this close to an election," said Todd, "you can't help but ask — are you 100% confident politics had nothing to do with sort of what looks like from the outside the White House dragging its feet on the explanation?"
Axelrod said he didn't have the clearance to know or go into specifics, but assured Todd that "it is not being treated as a political issue at the White House."
"You believe you're winning right now?" Todd asked him later.
"I think we're doing well," Axelrod responded. "I think that people are hearing our message."
Watch, via MSNBC:
Have a tip we should know? tips@mediaite.com