Chuck Todd Rips Dems' Lack Of Outrage Over IRS: Scandal Has 'More Legs Politically' In 2014 Than Benghazi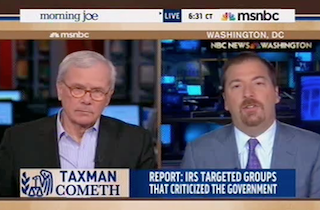 "Welcome to the second term, Mr. President," Tom Brokaw remarked on Monday's Morning Joe, as the panel veered again into a discussion about the scandal regarding the IRS targeting conservative political groups — for which it has apologized. Chuck Todd, too, weighed in on the matter, questioning why more Democrats haven't been more outraged.
President Obama needs to go public and deem the IRS' actions outrageous and unacceptable, Brokaw asserted. He needs to find those responsible and clean house. It's not a political issue, Brokaw contended — "it's about trusting your government."
"It's time for action," he said. "Statement, then action. Let's get this cleaned up and move on. It's, 'Welcome to the second term, Mr. President.'"
Todd jumped into the discussion, asserting that Obama had a chance to address the issue on Friday during a health care event. It was a wasted opportunity, and White House Press Secretary Jay Carney's "very weak" response wasn't sufficient.
"It didn't seem like they had a sense of urgency about it, a real sense of outrage," Todd argued. "And then look at the reaction of the entire Democratic Party. Of course the Republican Party's jumping on this — they're standing up for members of their base constituency, and at the same time, beating up the IRS is always good politics. Why aren't there more Democrats jumping on this? This is outrageous no matter what political party you are."
"Where was the sense of outrage?" he asked, noting he couldn't tell why the White House didn't better address the matter. "This story has more legs politically in 2014 than Benghazi."
Take a look, via MSNBC:

Have a tip we should know? tips@mediaite.com