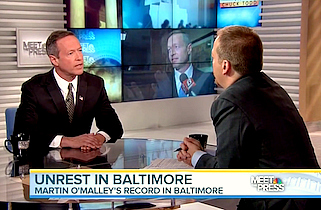 Former Baltimore Mayor and potential 2016 Democratic candidate Martin O'Malley received some attention last week, but not the kind he wanted, as his tenure came under scrutiny as the backstory to the inequality and tension between Baltimore's African American community and law enforcement. On Meet the Press Sunday morning, host Chuck Todd asked if he could "still run on his record."
"I did not dedicate my life to making Baltimore a safer and just place because it is easy," O'Malley said. "I am more inclined and deeply motivated now to address what's wrong with our country…What's happened in Baltimore should be a wake-up call for the country."
RELATED: Jake Tapper to Martin O'Malley: 'Are You Responsible' for Baltimore Unrest?
O'Malley has been seen as the most viable contender against Hillary Clinton, but the unrest in Baltimore has been traced by some back to decisions made during his administration. Todd pressed him on why $130 million that had been pumped into Baltimore neighborhoods had apparently had no discernible effect.
O'Malley called the $130 million a "spit in the bucket," and swiped at House Speaker John Boehner (R-OH) for crying "crocodile tears" over the funds.
"We have not had an agenda probably since Jimmy Carter," he said. "we left cities to fend for themselves. Because of the dedication of a lot of mayors and good people throughout cities in america, cities have been actually coming back."
Watch the clip below, via NBC News:
[Image via screengrab]
——
>> Follow Evan McMurry (@evanmcmurry) on Twitter
Have a tip we should know? tips@mediaite.com