Chuck Todd to Press Sec.: Has White House Given Up on Legislating with Congress?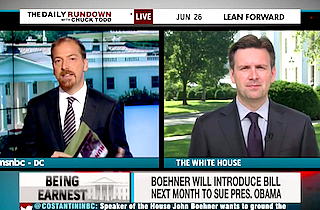 Following House Speaker John Boehner's (R-OH) announcement yesterday that he was considering suing the Obama administration over its use of executive orders, Daily Rundown host Chuck Todd asked brand-new White House Press Secretary Josh Earnest Thursday morning if the White House had given up on finding legislation it could work with Congress on, something Earnest denied.
"Does the White House believe this is it, now, there really is no major legislation that the two sides can work on together?" Todd asked.
RELATED: Earnest: 'Unfortunate' That GOP Has Opted for 'Litigious Strategy'
"The president is certainly not closing that door," earnest said. "I think the question all along has been do Republicans have enough political courage to try to do the hard work of legislating. This is, after all, the job they were elected to do, which is to work in divided government to try to work across the aisle with Democrats to move the country forward."
"The Senate has done this on a couple of occasions," Earnest said. "You mentioned the comprehensive immigration reform proposal. That was a painstaking effort where Democrats and Republicans in the Senate worked together. Neither side got every single thing they wanted in that bill; the president certainly didn't get everything he wanted in that bill. But this is a compromised proposal that would be good for the economy, would reduce the deficit, and would finally address what everybody acknowledges is a broken immigration system."
Watch the clip below, via MSNBC:
[Image via screengrab]
——
>> Follow Evan McMurry (@evanmcmurry) on Twitter
Have a tip we should know? tips@mediaite.com