Chuck Todd to Ryan: Are You Choosing Party Over Country If You Condemn but Still Support Trump?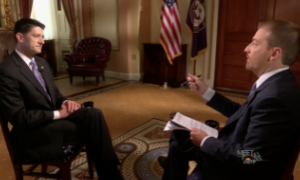 Chuck Todd took it to Paul Ryan on Sunday with a tough interview on how he can support Donald Trump despite his very public and very deep concerns about the mogul's politics.
A brief portion of today's Meet the Press was previewed last week, which led to a discussion on whether Ryan advised fellow Republicans to follow their "conscience" when deciding on whether to supporting Trump. Today, the speaker was asked "how are you comfortable still supporting," Trump after expressing serious reservations time and time again.
"I feel like I have certain responsibilities as not just Congressman Paul Ryan from the 1st District of Wisconsin, but at Speaker of the House. Imagine the Speaker of the House not supporting the duly elected nominee of our party, therefore creating a chasm in our party to split us in half, which basically helps deny us the White House and strong majorities in Congress."
While Ryan said that he would call Trump out again if he must, Todd said that "You just made a case though of party over country." Ryan denied doing any such thing, and re-affirmed that defeating Hillary Clinton is the top priority among conservatives.
Eventually, Todd pointed out that if Trump loses, Ryan will have a lot of explaining to do if he supports someone who critics say has put a "stain" on the Republican Party. Ryan responded that it wasn't by his hand that Trump managed to get enough votes to defeat all of his nomination competitors.
Watch above, via NBC.
[Image via screengrab]
— —
>> Follow Ken Meyer (@KenMeyer91) on Twitter
Have a tip we should know? tips@mediaite.com