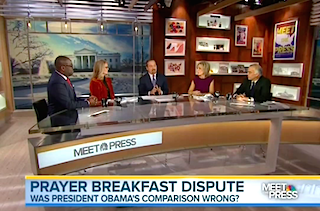 The Sunday morning political talk shows have long faced criticism for booking too many old, white men (see: John McCain) to break down the big issues of the week. But according to a new study from Media Matters, Meet the Press under relatively new host Chuck Todd has made great strides towards reversing that trend.
From his September 1 debut to the end of last year, Todd's Meet the Press guests are still 54% white men, but that's a whole seven points lower than the 61% of white male guests David Gregory hosted on the show last year. Todd's guests were 46% non-white men, compared to just 38% for Gregory.
"We're a 21st century political news show. Politics is defined more and more — some political debates and political disagreements are defined sometimes a lot more on gender, on race, on ethnicity, on religion," Todd told Media Matters this week. "It's hard to be a political show and not reflect that reality." But he also said the show has a ways to go, especially when it comes to "geographic" diversity, ie. not just people from New York and D.C.
The host cited this past weekend's panel discussion of Obama's National Prayer Breakfast remarks as being enhanced by the presence of Detroit Free Press editorial page editor Stephen Henderson, who highlighted Obama's comments of Christianity's influence on Jim Crow laws. "We're all focused on the Crusades aspect of it and somebody else, another ethnicity is going to hear something else," Todd said.
"Maybe it's a tone we're setting," Todd added, in an attempt to explain the shift. "I also have a fairly young staff. I think millennials do say, 'Hey, let's not just have the white male perspective.'"
Todd's Meet the Press is still booking mostly white male guests, but the change is notable in comparison to the other Sunday shows as well. While Gregory's program was the second-least diverse next to Face the Nation, Todd's show is now the most diverse of all his major competitors, including former leader State of the Union on CNN, which lost its female host last year.
Here's the full breakdown, via MMfA: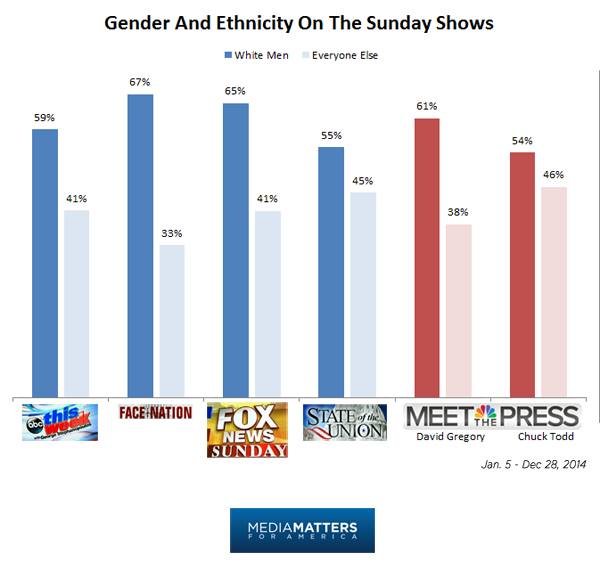 And you can watch the recent segment Todd referenced in his interview below, via NBC:
[Photo via screengrab]
— —
>> Follow Matt Wilstein (@TheMattWilstein) on Twitter
Have a tip we should know? tips@mediaite.com