MSNBC, 12:50pmET: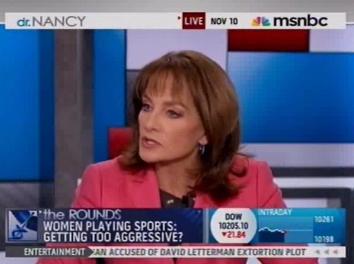 By now, everyone has likely seen the video of the hair-pulling, punching female college soccer player who has been suspended indefinitely. Dr. Nancy Snyderman took this as an opportunity to delve into the topic of whether women athletes are just too darn aggressive and emotional these days.
We don't know exactly what Dr. Nancy is implying here, but we're pretty sure it's not 100% un-sexist:
You want women out there aggressive, smart, nuanced. How do you take them up to that spot and not sort of, I don't want to say let girls be girls, but push them toward the kind of stuff you would expect out of men's sports, but just perhaps an inch or two shy of that?
So we want women to be almost as aggressive as men, but just not quite as much or else we can risk incidents like some crazy woman punching an opponent?
William Wiener, a sports pyschologist, was one of Snyderman's guests, and he had a different, but equally cringe-worthy theory. "As we see a growth in women's sports in general, I think this kind of aggression and people losing control of their emotions is a natural outgrowth of that and I think the systems aren't really intact to sort of contain that," he said.
The isolated incident (yes, there's another high school soccer fight video now making the rounds) is the exact thing cable news likes to make into a trend.
This screengrab has nothing to do with soccer or overly emotional, aggressive women, but was from the segment after and made me laugh: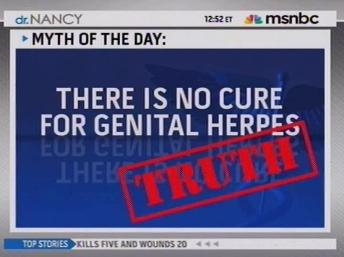 As we've reported before, Dr. Nancy has some of the best chyrons.
Do you have a pick for Chyron of the Day? Email me at Steve@mediaite.com. Check out all the past Chyrons of the Day here.
Here's the video of the segment, naturally headlined "Girls Behaving Badly":
—–
» Follow Steve Krakauer on Twitter
Have a tip we should know? tips@mediaite.com