CIA Director Nominee: Waterboarding Is 'Reprehensible,' 'Should Have Been Banned'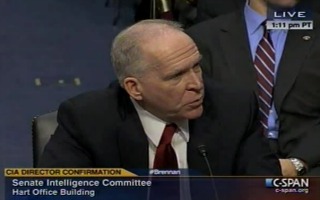 During Senate confirmation hearings on Thursday, Sen. Carl Levin (D-MI) pressed President Barack Obama's nominee to become the next director of the Central Intelligence Agency, John Brennan, for his opinion on the enhanced interrogation technique known as waterboarding. Brennan replied unequivocally that it is the opinion of members of the administration that waterboarding is "torture." He said he could not say himself whether the practice was torture, but he was clear that he found waterboarding "reprehensible" and said it "should have been banned." Brennan has been an instrumental part of the crafting and implementation the Obama administration's drone warfare policy.

RELATED: Fox & Friends Slams 'Jaw-Dropping' 'Hypocrisy' Of Obama For Supporting Deadly Drones But Not Waterboarding
"In your opinion, does waterboarding constitute torture?" Levin asked.
"The attorney general [Eric Holder] has referred to waterboarding as torture – many people have referred to it as torture," Brennan replied. "The term torture has a lot of legal and political implications."
"It is something that should have been banned. It never should have taken place, in my view," Brennan added. "Therefore, if I were to go to the CIA, it would never in fact be brought back."
"Do you have a personal opinion as to whether waterboarding is torture?" Levin pressed.
"Waterboarding is reprehensible and it's something that should not be done," Brennan said, noting that he could not answer whether it was a torture tactics because he was "not a lawyer."
"Is waterboarding banned by the Geneva Conventions?" Levin asked.
Watch this clip below via C-SPAN:
> >Follow Noah Rothman (@NoahCRothman) on Twitter
Have a tip we should know? tips@mediaite.com