CIA Director on Torture Report: There's Been 'More than Enough Transparency'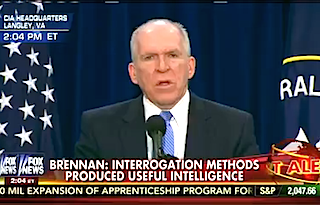 In an unprecedented move Thursday, CIA Director John Brennan not only made a public statement to the press about the Senate Intelligence Committee's torture report, but also took several questions from reports in attendance. However, his frustration over the process showed when he said in response to the first question from The Wall Street Journal's Siobhan Gorman that there's been "more than enough transparency" since the report was released.
Answering Gorman's question about his stance on the decision to release details of the CIA's torture program, Brennan said that he would prefer to keep the counsel he gave to the Director of National Intelligence James Clapper and to President Barack Obama to himself. "They knew my views," he said.
"You can't share them with us in the interest of transparency?" Gorman asked.
"I think there's more than enough transparency that has happened over the last couple days," Brennan replied. "I think it's over-the-top."
He then clarified earlier comments about his stance on the "enhanced interrogation techniques" that the Senate report said did not lead to actionable intelligence in the war on terror. "There is no way… to know whether or not some information was obtained from an individual who had been subjected at some point during his confinement could have been obtained through other means," he said. "It's an unknowable fact."
He maintained that there was "very useful, valuable intelligence that was obtained from individuals who had been at some point subjected to" those techniques. "Whether that could have been obtained without the use of those E.I.T.'s, it's something, again, that is unknowable," he said.
Watch video below, via Fox News:
[Photo via screengrab]
— —
>> Follow Matt Wilstein (@TheMattWilstein) on Twitter
Have a tip we should know? tips@mediaite.com