CIA Linked Libya Attack To Militants Within 24 Hours, CNN Panel Points To White House Contradictions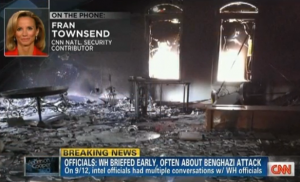 On Friday night, CNN reported that top White House officials were in frequent contact with senior intelligence officials within the first 24 hours following the deadly attack in Benghazi, Libya — with the CIA station chief reporting links to militants (not a spontaneous occurrence).
There were multiple conversations and "at least one secure video conference involving the CIA director, David Petraeus," the White House national security adviser, and possibly Secretary of State Hillary Clinton, John King reported.
"We don't know yet what was said, or whether those discussions covered raw intelligence from Libya pointing to terrorist involvement," King noted. "We have been reporting such early indications existed, and tonight, the Associated Press says some of it was coming from the CIA station chief on the ground."
King also pointed to earlier comments from Mike Rogers, the Republican chairman of the House intelligence committee, in which he said the committee was "in possession of information" that "pretty much said this was a military style attack within less than 24 hours."
Presumably, King added, the White House also had that information. He took a look back at the Obama administration's initial response to the attack, which contradicted that logic.
CNN's Fran Townsend offered some more details, and her take on the situation:
In that first 24 hours as Americans were waking to this tragic news…senior intelligence officials were in hourly contact updating the White House…We don't know what was said in those conversations, but I can tell you from having lived through these crises, you're getting a constant feed of what the intelligence community understands about what is currently going on and what has happened on the ground.
King noted that the CIA station chief in Libya who compiled intelligence reports saying the attacks were not spontaneous, but executed by militants, sent those reports to Washington. While King said we don't know who received the reports, he asked Townsend whether that information would have been held from the White House, amid conflicting information.
No, she said. The chief may have prefaced it with a disclaimer, saying it was less reliable or unconfirmed, but "would not hold it back."
Bob Baer, a former CIA officer, agreed, noting, "I have never seen an attack on the United States that was not immediately reported to the White House."
Later in the segment, King went on to recall Obama's promise to bring the killers to justice. The New York Times' David Kirkpatrick actually had a meeting with a key suspect in the attack — and during the CNN segment, Kirkpatrick said the suspect wasn't particularly difficult to pin down. But, to his knowledge, hasn't been interviewed by officials.
The segment below, via CNN:

Have a tip we should know? tips@mediaite.com