Cigar-Chewing Bernie Goldberg Tells Bill O'Reilly: "Thank God For Rich People"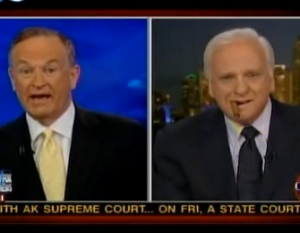 Soak the rich? Bernie Goldberg says how about celebrating those big money bigwigs instead–maybe even build a "beautiful granite and bronze" monument to them in our nation's capital?
On Bill O'Reilly's show Monday night, O'Reilly invited Goldberg to explain his recent column, "Thank God for Rich People," in a segment introduced deftly by O'Reilly, who said that Goldberg was live in Miami, "just a short skateboard away from his lavish home."

Goldberg calls the rich "unsung American heroes," though he admits the statement is "half tongue in cheek." More seriously, he said "rich people contribute a lot to this country" and then provided a long list of ways that having the rich (thank God) helps the poor:
The absolute serious part was, try to imagine an America without rich people. Rich people contribute a lot to this country. The top one percent of wage earners pay 38 percent of all federal taxes. The top five percent pay 60 percent and the top ten percent pay 70 percent of all federal income taxes. Now, they pay a disproportionate amount for all sorts of things that help poor people, whether it's food, or whether it's medicine, or whether it's sending kids to college.
Goldberg says the rich don't necessarily "need" a tax break, but he insists they definitely don't need to be vilified in the tax break debate. But enough of that serious discourse. How about getting right to O'Reilly's odd attempt to pin Goldberg down on "the Bible passage that says it is harder for a rich man to enter the Kingdom of Heaven than it would be for a camel to go through a needle's eye."
What? Well, here's the answer, including Goldberg's assertion that Jesus would be a "liberal Democrat" if he were alive today:
Have a tip we should know? tips@mediaite.com