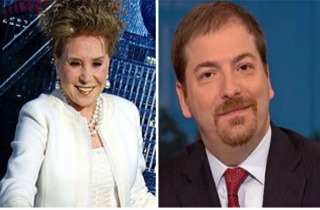 Meet the Press host Chuck Todd's most enduring feature is his fiery goatee. But it is not without controversy.
Back in 2009, Todd lost a bet with CNN's Jake Tapper that was supposed to result in Todd shaving off his face rug. To the disappointment of many, he opted to give money to charity instead.
When he took over as host of Meet the Press, though, New York Times TV critic Alessandra Stanley (no stranger to hairy situations herself) saw the scruff as a potential plus.
"Even though he lost weight and gained a tan for his debut on Sunday," Stanley wrote at the start of September, "Mr. Todd doesn't look like other anchors. For one thing, he has a goatee…"
And for unknown reasons, BuzzFeed's Dorsey Shaw put together a compilation of media personalities sporting photoshopped versions of their own Todd fuzz.
But then there's New York Post gossip columnist Cindy Adams, who is clearly not a fan.
"IF NBC doesn't remove Chuck Todd from Meet the Press, at least make him remove that hideous goatee and picture frame around his mouth," Adams writes in her latest column.
Forgive Adams. She may not be aware that Todd recently explained why he keeps the goatee. "Honestly, every time I look in the mirror and at that beard, I see my late father," he said in Q&A on Reddit. "Shaving it off would feel like getting rid of a piece of him that I carry every day."
Now, this is awkward.
[Photos via Wikimedia Commons/NBC screen grab]
— —
>> Follow Eddie Scarry (@eScarry) on Twitter
Have a tip we should know? tips@mediaite.com