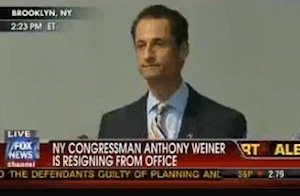 After various members of Congress, the media, and even the President weighed in on whether Democratic Congressman Anthony Weiner should resign from office as a result of his "sexting scandal," today Weiner finally made it official and announced his resignation. Many attribute Weiner's decision to announce his resignation now to the fact that his wife just returned from a trip abroad with Secretary of State Hillary Clinton, although the non-stop media coverage of the controversy and the increasing amount of Democrats saying he should resign surely contributed to his ultimate decision.
Weiner spoke about why he entered politics to begin with and how twenty years ago in the same room he first spoke to voters about running for City Council. He said there is "no higher honor in a democracy" than to be an elected representative and suggested that the "middle class story of New York is my story and I'm very proud of that." He again stated his apology for the "personal mistakes I have made" and how "the distraction that I have created" unfortunately made it impossible for any other business in Congress to get attention.
As Weiner attempted to make it through his humbling speech, several hecklers very loudly yelled some questions that highlighted just how awkward and uncomfortable this whole ordeal truly is. With a question like "are you more than seven inches" and a shout of "pervert," it seems like Weiner and many others will be grateful that the story can finally be laid to rest.
Watch the clip from Fox News below:

Have a tip we should know? tips@mediaite.com