'Citizen Koch': Watch The Trailer For A Documentary That's Too Controversial For PBS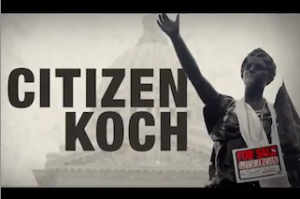 This is the documentary that went too far for PBS. The New Yorker recently published an investigative piece by Jane Mayer that chronicled how and why ITVS, which produces films for PBS' "Independent Lens" series, ended up passing on the film to protect one of public television's biggest donors: David Koch.
The documentary, titled Citizen Koch, is now without a distributor, but the filmmakers, Tia Lessin and Carl Deal, have posted the trailer online, which takes an unflinching look at the effects of the Supreme Court's Citizens United decision on America's political process. The conclusion of the film appears to be that the Koch Brothers, with their massive financial influence and support of Republican candidates and causes, are at the heart of the problem.
In a joint statement included in Mayer's piece, Lessin and Deal pushed back against the unfair "censorship" they felt they received during the post-production process:
"The film we made is identical in premise and execution to the written and video proposals that ITVS green-lit last spring. ITVS backed out of the partnership because they came to fear the reaction our film would provoke. David Koch, whose political activities are featured in the film, happens to be a public-television funder and a trustee of both WNET and WGBH. This wasn't a failed negotiation or a divergence of visions; it was censorship, pure and simple. It's the very thing our film is about—public servants bowing to pressures, direct or indirect, from high-dollar donors."
Ultimately, attempts by ITVS and PBS to appease David Koch and retain his financial support were unsuccessful. He resigned from the board of New York's PBS affiliate WNET earlier this month.
Watch the trailer below:

—
>> Follow Matt Wilstein (@TheMattWilstein) on Twitter
Have a tip we should know? [email protected]