Civility Aside, Cruz Took a Pretty Solid (and Subtle) Swipe at Trump in His Closing Remarks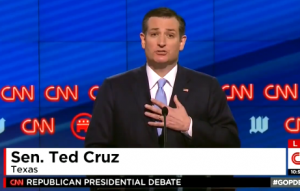 The headlines this morning are all about the renewed civility that the GOP debate Thursday night managed to show. There were no personal jabs about height, no assassinations of character; instead, as CNN's Chris Cuomo correctly identified immediately following the debate in Miami, it was one of the "most substantive, [and] the least sniping."
But Texas Senator Ted Cruz did drop in a pretty subtle jab at Trump's birthright that was phrased — all things considered — as a compliment, though a few people in the crowd seemed to realize otherwise. And there's no reason to put it past the experienced lawyer to know how to passive aggressively take a dig while maintaining his serpentine charm.
Cruz used his closing statement to credit the up-from-their-bootstraps legacies of himself and his fellow candidates, recognizing the careers that each of their parents held to contrast their children one day running for President. Well, sort of.
"What an incredible nation we have," the Texas Senator said during his closing remarks, "that the son of a bartender [Rubio] and the son of a mailman [Kasich] and the son of a dishwasher [Cruz] and a successful businessman can all stand on this stage competing and asking for your support."
Did you catch that? Some in the audience can be heard reacting to the jab; Donald Trump of course is the son of an outerborough real estate developer, so I suppose ending his poetic quartet with, "…and the son of a influential New York mogul worth $300 million dollars" doesn't quite have the same ring to it.
Trump has said that his father gave him "a small loan of a million dollars," and while the scale of the Trump enterprise has certainly eclipsed the billion dollar mark, it's tough to shake the optics of casually mentioning "million dollars" in the same sentence as "small". Cruz knows it, and despite a night without explosions, managed the quickest of digs against the man he hopes to dethrone in the remaining primary contests.
Watch the above video from CNN's Republican debate.
[image via screengrab]
This is an opinion piece. The views expressed in this article are those of just the author.