'Civility': MSNBC Guest Advises Viewers on How to Avoid Holiday Fights over Politics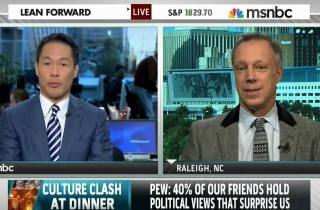 It seems like just one month ago that supporters of President Barack Obama and the Affordable Care Act were advising devotees to berate and harangue their family members about the benefits of the sweeping health care reform law. Those were heady days. Today, however, the order of the day is "civility." To that end, MSNBC invited an expert to advise the audience on ways in which they can avoid that often polarizing political argument with family during this Christmas season.

MSNBC anchor Richard Lui invited author Steven Petrow, a "civil behavior" columnist with the New York Times, to share his tips on how to dodge potentially explosive political arguments with friends and family.
He said that, in the era of social media, we are often confronted by our friends "surprising" political values and are often put in the awkward position of sharing intimate space with family members who we've "unfriended."
"One of the benefits of the old days before social media was that we didn't actually know everyone's point of view on all of these topics like Duck Dynasty, or Obamacare, or same-sex marriage," Petrow asserted. He notes that, via social media, you may have already "called" some of your family members "out" on their political views you find distasteful.
RELATED: Jonah Goldberg: Obamacare Supporters Getting Thanksgiving Talking Points 'Incredibly Creepy'
He advises viewers to "agree to disagree" and to not "bring up topics that you know are going to be provocative or really divisive."
Lui asked if it was "practical" to think that, maybe, the savvy viewer could change some hearts and minds at the dinner table with his or her astute political views and command of the facts. He cited the Cheney family's likely arguments over gay marriage. "Do you choose battles because you know they're important issues to you or your family?" Lui asked.
"I think it's important to remember that you don't really change people's minds by bludgeoning them to your point of view," Petrow concluded. He advised viewers to "talk with" rather than "at" their subjects.
Watch the clip below via MSNBC:
[Photo via screen grab ]
— —
> >Follow Noah Rothman (@NoahCRothman) on Twitter
Have a tip we should know? tips@mediaite.com