Not Satisfied With Media Matters Gripe-Fest, Ousted Tea Party Leader Turns To MSNBC For Sympathy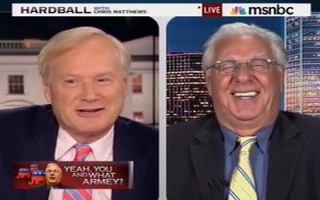 Last seen delivering a tell-all, behind-the-scenes interview to the liberal media watchdog group Media Matters for America, former Republican House Majority Leader Dick Armey sat down for a wide-ranging interview with MSNBC's Chris Matthews on Tuesday. Armey served as a punching bag for Matthews for just long enough to make FreedomWorks – and the GOP, for that matter – happy that Armey no longer holds a position of power in the Republican Party or any of its supporting organizations.

RELATED: Former Tea Party Leader Says They Got 'Too Little Value' For Big Investments In Glenn Beck, Rush Limbaugh
Armey, the former face of the conservative advocacy group FreedomWorks, was recently removed from his post after he mounted a failed (and lightly armed) coup.
Following his ouster, a disgruntled Armey spoke with MMFA, where he revealed his pent-up frustrations with his former employer as well as prominent conservative broadcasters like Rush Limbaugh and Glenn Beck.
Not content with smearing the GOP's opinion leaders and grassroots organizers in print, Armey sat down with MSNBC's Matthews on Tuesday where he was led by the nose into tarring the party he once led in Congress.
Among the gravely serious questions about politics and the future of the Republican Party that Armey fielded were the following:
–"What's going on with your party?"
–"Why do you have guys like Rick Santorum running for president to outlaw – or to get rid of – contraception? "Why does your party want a national law against gay marriage? Why are you guys so much involved in abortion all the time?" (one question)
–"Why does your party fill its platform with this stuff: creating personhood for somebody a second after there's a conception? … Why do you keep getting involved with this nutty stuff in your platform, when you say it just the crazy candidates?"
"Maybe it's just that you're so misguided, you think I'm misguided," Armey replied to that last pointed question. Perhaps Armey finally realized, all too late, that he was serving as a foil for Matthews to vent his frustrations on and serve his up for his audience some red meat.
What led Armey to decide to become the face of the post-tea party Republican? Maybe Armey holds his own ability to debate in such high regard that he thought he could match Matthews in a head-to-head interview. If so, this was arrogance. He could not.
Having lost the stature he enjoyed as the face behind FreedomWorks, Armey may find these interviews with liberal media outlets beneficial to his career. His actions are, however, self-serving and do the party he professes to support no favors. Sadly, like so many individuals trapped in D.C.'s revolving door – lurching rudderless from Congress to advocacy organizations – concerns about one's career often trump principle. Armey is merely the latest to reveal his true stripes.
> >Follow Noah Rothman (@Noah_C_Rothman) on Twitter
Have a tip we should know? tips@mediaite.com