Cleveland Kidnapping Victim Testifies At Ariel Castro Sentencing: 'I Will Live On, You Will Die A Little Every Day'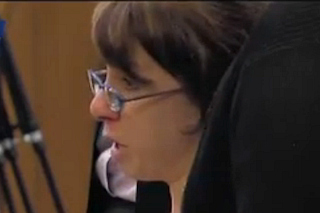 Cleveland kidnapping victim Michelle Knight testified at the sentencing hearing of kidnapper Ariel Castro on Thursday, telling him, "You took eleven years of my life away, and now I've got them back."
Holding back tears, Knight described her years under Castro's captivity: "Days never got shorter," she said. "Days turned into nights, nights turned into days, years turned into eternity. I knew nobody cared about me. He told told me that my family didn't care."
At times Knight directly addressed Castro, who was present in the courtroom.
"I spent eleven years in hell, now your hell is just beginning," she told him. "I will overcome all this that happened, but you will face hell for eternity. From this moment on, I will not let you define me or affect who I am. I will live on, but you will die a little every day."
RELATED: Cleveland Kidnapping Victims Release Thank You Video: 'Through Hell And Back With My Head Held High'
Castro pled guilty last week to 937 criminal counts of rape, kidnapping, and attempted murder for keeping three women, including Knight, captive for more than a decade. Castro is to be sentenced to life without parole, plus an additional 1,000 years.
"Death penalty would be so much easier," she said to Castro. "You don't deserve that. You deserve to spend life in prison."
Knight finished on a triumphant note: "After eleven years, I'm finally being heard, and it's liberating."
Watch the testimony below, via Fox News:
—
>> Follow Evan McMurry (@evanmcmurry) on Twitter
Have a tip we should know? tips@mediaite.com