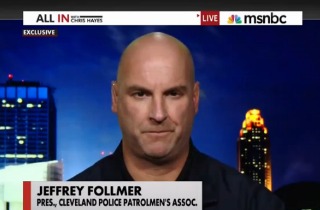 On MSNBC's All In, guest-hosted by Ari Melber, Cleveland Police Union President Jeffrey Follmer joined the show Monday night to discuss the controversial Tamir Rice shooting death, declaring unequivocally the police actions were "justified" while disposing some advice for now-controversial Browns receiver Andrew Hawkins.
"We're not apologizing to anybody," Follmer said. "[The Browns] need to do it to us."
To review the Rice incident, Cleveland police officers were dispatched to a Recreation Center on the city's west side on November 22nd after receiving reports of a male randomly pointing a gun at people.
Police say just seconds after pulling up, one of the officers shot and killed Rice and claims the child pulled a gun from his waistband. According to investigators, the dispatcher never informed officers the 911 caller thought the suspect could be a child (Rice was 12) and that the weapon could have been a fake. It was quickly determined after the shooting that Rice was holding an airsoft gun.
Fast-forward to last Sunday's Bengals-Browns game, when Cleveland wide receiver Hawkins wore a shirt before the game that read, "Justice for Tamir Rice" that quickly exploded on social media. Follmer said at the time he felt the shirt was "pathetic" and demanded an apology after advising Hawkins to learn more about law before commenting on it. That set up the following exchange between Melber and Follner:
MELBER: "When you say that he, as we read your statement, doesn't know the facts of the law, how you do apply that logic? Wouldn't that apply to any citizen who may not be a police expert but has some legitimate view of police conduct? Don't you think at a certain point that this kind of reaction risks feeding the perception that some of these police unions or some folks here don't think they're accountable to public views?"

FOLLMER: "You know, there's a video of this, and everything speaks for itself. The male's action spoke for itself. The video clearly shows, and by the officers' statement, that they were justified in the, in the deadly force."

MELBER: "You're saying that the video clearly shows that the 12-year-old boy was an imminent lethal threat to the officers?"

FOLLMER: "Oh, absolutely. I don't know if you didn't see it, but yeah absolutely."

MELBER: "Yeah, we have some of it up on the screen. We're showing it. I mean, there's tremendous disagreement about that. In a lot of cases, that would constitute probable cause for a crime, unless there was lethal, lethal threat to the officers. But ultimately, that isn't your call, is it? And it's not the athlete's call. That's a call that has to go through the criminal justice system. I guess what I'm trying to get at here is from your statements — and the reason why they've upset some people — is your statements seem to presuppose that the police union or the police officers have the final word on the facts here. You know that's not true. You know we have a system here of criminal justice that leaves that decision up to grand juries and the criminal justice process, right? And people are free to talk about it?

FOLLMER: "They're free to talk about it, but it shouldn't be talked on the football field where we are supporting the Browns by doing security in everyday when we support the Browns."
Full video here, via MSNBC.
— —
>> Follow Joe Concha on Twitter @JoeConchaTV
Have a tip we should know? tips@mediaite.com