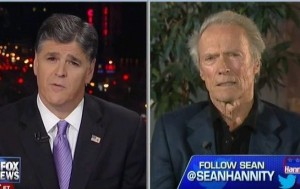 Clint Eastwood sat down with Sean Hannity tonight for a wide-ranging interview that hit on everything from Eastwood's infamous RNC convention speech in August to just how liberal Hollywood actually is. Hannity repeatedly told Eastwood he loved the speech and made many important points about President Obama that he agreed with.
RELATED: Clint Eastwood On RNC Speech: Message Was Simple — Don't Idolize Politicians, They Work For You
Hannity said he liked how Eastwood brought up Obama's broken promises and that it's okay to get rid of someone who's now doing a good job. Eastwood said that a lot of people feel dissatisfied with the president but don't want to admit they made a mistake supporting him the first time. He credited Romney as "the perfect guy for the job," and said he is not happy with how the Obama administration handled the crisis in Benghazi.
Hannity also liked the point Eastwood made about politicians being the nation's employees, asking him why people have such a "personal attachment" to Obama. Eastwood said that he notices many Obama supporters being overzealous in their defense of the president, which he said sounds "suspicious."
In the second part of the interview, Hannity asked Eastwood why an overwhelming percentage of Hollywood is liberal. Eastwood mentioned the House Unamerican Activities Committee of the 1950s as a possible explanation for the big political shift, while acknowledging that most of Hollywood is young, and young people are "more idealistic" and "much more liberal."
Eastwood added that there is a small group of conservatives in Hollywood, and cited other celebrities like Jon Voight, but admitted that they are not that vocal.
Watch the full interview below, courtesy of Fox News:
—–
Follow Josh Feldman on Twitter: @feldmaniac
Have a tip we should know? tips@mediaite.com
Josh Feldman - Senior Editor