Clinton Advisor Dismisses, Attacks Polls Showing Her Losing Ground to Donald Trump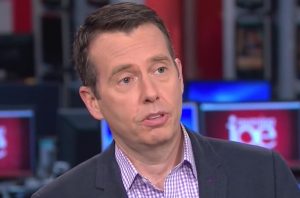 Former Barack Obama campaign manager and informal Hillary Clinton advisor David Plouffe attacked polls Monday that showed Clinton tied or losing to Donald Trump in key swing states, calling them unreliable and not representative of how voters will actually behave.
Plouffe was asked on MSNBC's Morning Joe about the plethora of bad polls for Clinton recently. "We have shown several polls that have come out over the past couple days, tied race in Pennsylvania, tied in Colorado, last Friday we saw some Wisconsin numbers that showed Wisconsin was too close to call," host Joe Scarborough noted.
"What's going on out there?" he asked. "In these states that Hillary Clinton should be ahead by five, six, seven points?"
Plouffe appeared to question the legitimacy of some of the pollsters in question. "First of all, there's a new Cheetos/Bud Light poll every hour with a different state," he argued. "So a lot of these–"
"But these are all kind of matching up," host Mika Brzezinski argued. ("Also," Scarborough cautioned, "don't disparage Cheetos and Bud Light.")
"The Doritos/Miller Lite poll is also coming out today," Plouffe continued.
Plouffe unskewed the polls, explaining that he didn't believe that so many voters would be voting for third-party candidates Gary Johnson or Jill Stein. "What none of these polls accurately do is to look at what a good campaign does is say you have a very good sense of who's likely to vote…" he said. "My belief is that Johnson and Stein's vote number will not be as high as it is right now."
"When you look at that, getting Trump to a win number in Pennsylvania, whether that win number's 50, 49, or 48, I think mathematically, it's impossible," Plouffe argued.
Watch above, via MSNBC.
[Image via screengrab]
—
>>Follow Alex Griswold (@HashtagGriswold) on Twitter
Have a tip we should know? tips@mediaite.com