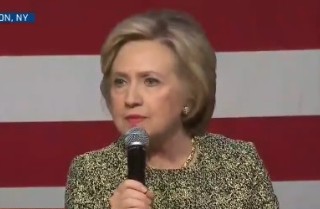 Democratic presidential candidate Hillary Clinton attacked rival Bernie Sanders on gun control Monday, telling a New York audience that Sanders' home state of Vermont was largely responsible for the gun crimes committed in the Empire State.
"When challenged on his gun stances, he frequently says, 'You know, I represent Vermont. It's a small rural state. We have no gun laws,'" Clinton said.
"Here's what I want you to know," she responded, "most of the guns that are used in crimes and violence and killings in New York come from out of state. And the state that has the highest per capita number of those guns that end up committing crimes in New York come from Vermont."
Clinton has made this case before, but behind closed doors. "She said that it's going to be coming out in the very near future that many of the catastrophes that have taken human lives in the State of New York have been the product of guns coming over the border from Vermont," said one Democratic state senator after meting with Clinton last week.
The former Secretary of State is correct that Vermont has the highest per capita amount of crime guns appearing in New York, but that's largely a product of Vermont's small population. Only 55 guns from Vermont were found in New York in 2014, placing them 14th in terms of the raw number of guns used in crimes.
Watch above, via MSNBC.
[Image via screengrab]
——
>>Follow Alex Griswold (@HashtagGriswold) on Twitter
Have a tip we should know? tips@mediaite.com