Clinton Awkwardly Suggests Ambassador Stevens Was Joking When Asking About Security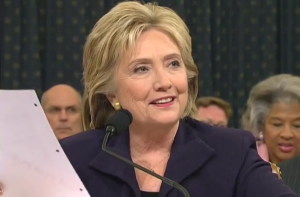 In one slightly awkward moment during Hillary Clinton's Benghazi Committee testimony, the former Secretary of State suggested that now-deceased Ambassador Christopher Stevens was joking in an email where he was actually asking about the compound's security.
Congresswoman Susan Brooks asked Clinton about an email Stevens sent before he was redeployed to Libya asking whether or not the security at the Benghazi compound had been updated or if the compound has been closed. "In December, your soon-to-be ambassador didn't know what was going to happen with the compound in Benghazi? How is that possible?" Brooks asked.
"Well, Congresswoman, one of the great attributes that Chris Stevens had was a really good sense of humor," Clinton said smiling. "And I just see him smiling as he's typing this, because it is clearly in response to the email down below talking about picking up a few 'fire sale' items from the Brits."
Brooks clearly didn't think so. "Those 'fire sale' items by the way, are barricades. They are additional requests for security for the compound."
"That's right," Clinton said, still smiling.
"That's what that fire sale was, because we weren't providing enough physical security for the compound, isn't that right? So they're picking up a fire sale because other consulates are pulling out, other countries are pulling out," Brooks continued.
"Well, I thought it showed their entrepreneurial spirit, Congresswoman," Clinton responded. "And I applaud them for doing so."
Watch above, via MSNBC.
[Image via screengrab]
——
>>Follow Alex Griswold (@HashtagGriswold) on Twitter
Have a tip we should know? tips@mediaite.com