Clinton Campaign Confirms Elizabeth Warren 'Under Consideration' For VP Slot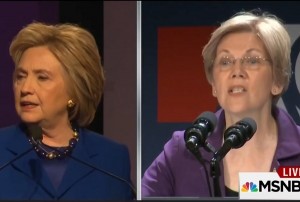 That escalated quickly. Mere hours after endorsing presumptive Democratic presidential nominee Hillary Clinton, Senator Elizabeth Warren (D-MA) is reportedly under active consideration for the vice-presidential slot on Hillary's ticket. NBC News' Andrea Mitchell broke the news via MSNBC's The Rachel Maddow Show Friday night when host Rachel Maddow told her audience that although no interviews for the running mate job have been conducted, the campaign is now on the record that Warren is under consideration:
The Clinton campaign confirms to NBC News tonight that Elizabeth Warren is under consideration for the possible running mate job for Hillary Clinton. They also say though that the hour-long meeting between Clinton and Warren at Secretary Clinton's house in Washington, DC this morning, that meeting they say should not be seen as a vice presidential interview. Hillary Clinton's campaign tells Andrea Mitchell tonight that although Elizabeth Warren is under consideration for the VP job, the interview process for vice presidential contenders has not yet started within the Clinton campaign. They say they haven't interviewed anybody about that job yet.
What's significant about this on-the-record confirmation is that it creates an expectation among liberal Democrats that will be hard to back away from should Hillary decide to choose someone else. It should also be noted, though, that this reporting uses no direct quotes, and so the context of this confirmation could be different than it appears. It sounds like Team Clinton was trying to quash expectations around the meeting, and may have made this confirmation incidental to that.
Have a tip we should know? tips@mediaite.com