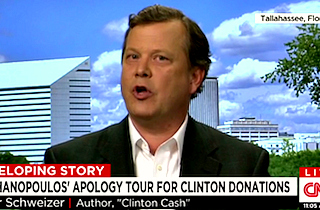 Peter Schweizer said he was "dumbfounded" by the revelation that This Week host George Stephanopoulos failed to disclose $75,000 worth of contributions to the Clinton Foundation before interviewing Schweizer about his book questioning the Foundation's donation practices.
"I knew about the fact that he had worked for the Clintons, but honestly, I sort of believed and assumed that he had sort of put that in the past," Schweizer said.
Stephanopoulos apologized earlier this week and recused himself from moderating 2016 debates, but Schweizer has said his financial and time commitments amounted to journalistic malfeasance.
"I thought he was simply asking tough questions" during an interview in which Stephanopoulos challenged Schweizer's partisanship and evidence. "I don't mind tough questions, but you wonder what's the motivation: is it the search for truth, or is it because he's trying to, in a sense, do something to benefit the Clinton Foundation which he obviously has some affinity for?"
Schwiezer pointed out that other newscasters had been fired for donations, including Geraldo Rivera, who claimed ABC had fired him for a $200 political contribution in the 80s. "The question is are journalists in general going to be held to the same standards at networks, or are you going to have superstars who are allowed to do things regular reporters are allowed to do?" he asked.
Schweizer said he would happily reappear for a follow-up interview, though he doubted it would happen, as it would function as an "admission of guilt" on ABC's part.
Watch the clip below, via CNN:
[Image via screengrab]
——
>> Follow Evan McMurry (@evanmcmurry) on Twitter
Have a tip we should know? tips@mediaite.com