Clinton Explains 'Dead Broke' Comment: 'We Understand What That Struggle Is'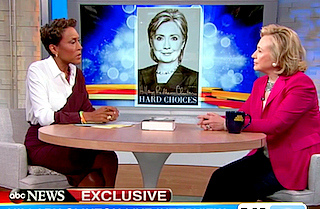 Following last night's interview with Diane Sawyer, former Secretary of State and presumed 2016 presidential candidate Hillary Clinton appeared on Good Morning America Tuesday morning and defended to host Robin Roberts everything from her foreign policy record to her statement, made in Sawyer's interview, that she and her husband had been "dead broke" upon leaving the White House in 2001.

Clinton's remarks concerning her family's debt following the legal battles of her husband's second term initiated mockery yesterday, and she was careful on GMA to distinguish her troubles from those of the middle class, though she did emphasize the couple's $12 million in debt.
RELATED: Diane Sawyer Confronts Clinton on 'Systemic Failure' over Benghazi
"We understand what that struggle is, because we had student debts, both of us, we had to pay off," Clinton said. "We had to work. I had a couple of jobs in law school. He had a lot of jobs. We have a life experience that's clearly different in very dramatic ways from many Americans, but also we have gone through some of the same challenges as many people have."
Clinton also defended the foreign policy of the Obama administration, saying, "I think we restored America's leadership at a time when it was in quite dire straits."
"There were areas I disagreed with President on," Clinton said. "But we often reached the same conclusion. But at the end of the day, he's the president, he gets to make the decision, and I respect that. …Any president will face hard choices. Hard choices are made with imperfect information by imperfect people.
Watch the clip below, via ABC News:
[Image via screengrab]
——
>> Follow Evan McMurry (@evanmcmurry) on Twitter
Have a tip we should know? [email protected]