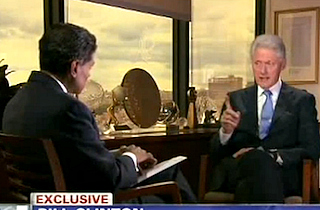 Former President Bill Clinton, who once struck Iraq over chemical weapons stockpiles without congressional authorization, told CNN's Fareed Zakaria Sunday morning that President Barack Obama didn't need to go to Congress to strike Syria, and wouldn't need to if the current deal with Syria and Russia to destroy Bashar al-Assad's chemical weapons fell through.
"He was not required to go [to Congress]," Clinton said. "He does have some international law to fall back on because of the chemical weapons issue…But let's cross that bridge when we get to it."
"The Russians and the Syrians knew he wanted to bomb, and they knew that he might bomb if he lost in Congress," Clinton said. "We have a situation in which Mr. Putin and President Assad, they may think that they've dodged a bullet, but they've also stepped into the arena of accountability, with people who are not naive. That's what we should want for everybody."
Clinton added that Obama's decision to take the war authorization to Congress allowed for him to make his case more thoroughly that military intervention would be limited.
"I think after he saw the debate in the UK—even though you might say that ought to frighten everybody off, he had a parliamentary majority and couldn't deliver—I think it made him think this is something the country ought to do together," Clinton said. "He thought it would give him an opportunity to convince people that we weren't going to send soliders, and we weren't going to fly our airplanes into the air defense systems."
Zakaria asked Clinton about he scope of surveillance programs, which occurred after Clinton's term. The former President upheld the need for data mining, and praised the FISA court for its unexpected oversight, but also noted that there had been too many lapses by the NSA, and that the procedures themselves were too hidden.
"It's a good thing that we know this, and I would encourage more disclosure on the procedures—not the details, but the procedures," Clinton said. "We have to use big data, we have to protect privacy. I think it would be a good thing if there were a little more transparency about the decisions of this court. They clearly have tried to do a good job, and they were clearly disturbed when they found out that even though it may have been unintentional, the government went beyond on a couple of occasions what they had authorized them to do."
Watch the full clip here, via CNN:
[Image via screengrab]
——
>> Follow Evan McMurry (@evanmcmurry) on Twitter
Have a tip we should know? tips@mediaite.com