Clinton Strategist: We Won't Do Any More Debates Unless Bernie Sanders Changes His Tone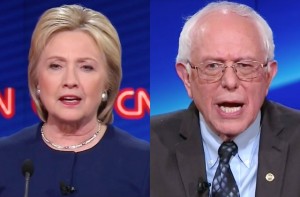 Hillary Clinton chief strategist Joel Benenson said on CNN Monday that they would refuse to schedule any further debates with Bernie Sanders unless his campaign changed its tone.
The Clinton campaign agreed to do four additional debates back in January. But despite their agreement with the Sanders camp, no future Democratic debates were ever scheduled and the candidates are not slated to meet again.
"Bernie Sanders wants a debate here [in New York] before the April primary," host Kate Bolduan noted. "Are you going to agree to it?"
But Benenson changed the subject: "I think what was notable this weekend wasn't so much that, but in my mind the Washington Post story with his own campaign talking about how they're poll-testing more negative attacks on Hillary Clinton."
"Don't distract here," Bolduan interrupted. "Why wouldn't you debate?"
"Because I think the real question is what kind of campaign is Senator Sanders going to run going forward," Benenson responded. "He pumped $4 million in the weekend before March 15, and he lost all five states on March 15. They spent about $4 million running negative ads."
"That doesn't have anything to do with a debate," Bolduan insisted again. "Why not debate?"
"The debates have been very good, but Senator Sanders doesn't get to decide when we debate, particularly when he's running a very negative campaign against us. Let's see if he goes back to the kind of tone he said he was going to set early on. If he does that, then we'll talk about debates, but we're not going to talk about it" Benenson said.
Watch above, via CNN.
[Image via screengrab]
——
>>Follow Alex Griswold (@HashtagGriswold) on Twitter
Have a tip we should know? tips@mediaite.com