Clinton Cancels Plan to Takes Advantage of Hurricane Matthew With Weather Channel Ads (UPDATED)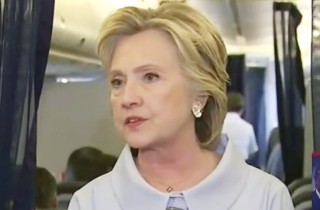 UPDATE (1:21 PM ET): The Clinton campaign has announced that they are rescheduling the planned ad buy. "We have requested that stations in Florida delay any of those ads on the Weather Channel until after the storm passes," spokesman Jesse Ferguson said in a statement. The original story is below.
Democratic presidential candidate Hillary Clinton is taking advantage of Hurricane Matthew in a unique way, making a big ad buy on the Weather Channel in Florida markets in anticipation of the storm.
"Clinton is seeking to appeal directly to swing-state voters potentially in the path of Hurricane Matthew and will spend $63,000 to reach Weather Channel viewers there for five days beginning on Thursday…" reported Politico in a story on how the candidates were reacting to the Category Four storm. "Hurricane Matthew is currently forecast to approach the Florida East Coast late Thursday or on Friday."
Politico notes that Clinton is threading a tricky needle. "The potential human and economic toll of major storms makes for one of the trickiest decisions of all for presidential campaigns: how to derive political benefit from natural disaster — or simply respond at all — without seeming to exploit real suffering."
The Clinton campaign denies that there's anything special about the ad buy. "Over the past few days, our campaign made millions of dollars of adjustments and refinements to our TV buys on dozens of different cable stations in markets all across the battleground states," says spokesman Jesse Ferguson. "The Weather Channel represented less than one percent of that spending."
[Image via screengrab]
—
>>Follow Alex Griswold (@HashtagGriswold) on Twitter
Have a tip we should know? tips@mediaite.com