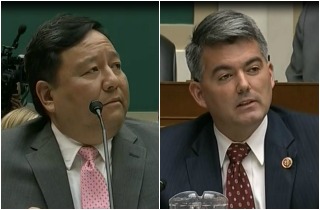 Deputy Chief Information Officer for the Center for Medicare & Medicaid Services, Henry Cho, appeared before a congressional committee on Tuesday to testify about the state of the implementation of the Affordable Care Act. When questioned by Rep. Cory Gardner (R-CO) about the federal government's preparedness, Cho confessed that between 60 and 70 percent of the architecture required to make the Affordable Care Act function has not yet been built.

"The committee's been reviewing materials that indicate that some parts of HealthCare.gov were not completed before the launch, as we've discussed here," Gardner began. "What portion of the website remained to be created when you launched on October 1st?"
"I don't have an exact percentage," Chao replied. "I look at it in terms of overall marketplace systems."
RELATED: Rothman: New Revelations Transform Obamacare from Fiasco into Scandal
"I think it was a set of priority functions that needed to be in place," he continued.
"Well, how much do we have to build today?" Gardner probed.
"Just an approximation, we're probably sitting somewhere between 60 and 70 percent," Chao responded.
"60 to 70 percent that needs to be built still?" the congressman queried.
"We still have to build the payment systems to make payments to issuers in January," Chao clarified. He added that this was not HealthCare.gov architecture per se, but the structure required for the ACA to function when it becomes fully operational in January.
"The online application, verification, determination, plan compare, getting enrolled, generating enrollment transaction – that's 100 percent there," Chao said.
"But the entire system is 60 to 70 percent away from being complete," Gardner interjected. Chao said that was the case.
When asked how that 60 to 70 percent of architecture would be tested before launch, Chao said they would be tested "in the exact same manner we tested everything else."
UPDATE: Chao later clarified that he meant 60 to 70 percent of the ACA's architecture has been completed and 30 to 40 percent remains to be completed.
Watch the clip below via C-SPAN:
h/t John Ekdahl
[Photo via screen grab]
— —
> >Follow Noah Rothman (@NoahCRothman) on Twitter
Have a tip we should know? [email protected]