CNBC Anchor Tears Into Dem Leader Who Claims U.S. Has A 'Paying-For Problem,' Not A Spending Problem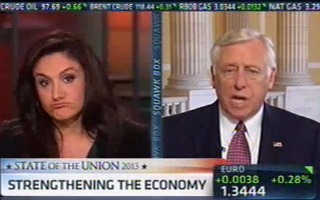 House Minority Whip Rep. Stenny Hoyer (D-MD) joined the hosts of CNBC where he was grilled by anchor Michelle Caruso-Cabrera on spending issues ahead of President Barack Obama's State of the Union address. Caruso-Cabrera pressed Hoyer repeatedly to admit that the nation has a spending problem which Hoyer refused to do. "We have a paying-for problem," he finally conceded.

RELATED: Nancy Pelosi To Fox's Chris Wallace: It's A 'False Argument To Say We Have A Spending Problem'
"I've heard Democrat after Democrat today tell me how much the president reached out to me during that last speech, and now he's going to do it again tonight," Caruso-Cabrera began incredulously.
"I sat in meetings with the president sitting with Republican leadership in the Senate and the House, and trying to get to a compromise," Hoyer countered. "We didn't get there, but he spent a lot of time in doing so. And any fair analysis would indicate that he was prepared to go to places, particularly on entitlements, that would upset his base."
"Sir, does the country have a spending problem?" Caruso-Cabrera asked.
"Does the country have a – the country has a paying-for problem," Hoyer replied. "We haven't paid for what we've bought."
"Are we promising too much?" Caruso-Cabrera pressed.
"Absolutely," Hoyer agreed. "If we don't pay, we shouldn't buy."
"How is that different from a spending problem?" She followed up.
"We spent a lot of money when George Bush was President of the United States," Hoyer replied.
"So, that's eight years and now another eight years of a lot of spending, so we're going on 16 years of a lot of spending now," Caruso-Cabrera shot back.
"We need to stop it," Hoyer agreed.
"Any day," Caruso-Cabrera agreed.
Watch the segment below via CNBC:
> >Follow Noah Rothman (@NoahCRothman) on Twitter
Have a tip we should know? tips@mediaite.com