CNBC Asks Kim Kardashian, 'Burgeoning Businesswoman,' For Her Take On The Economy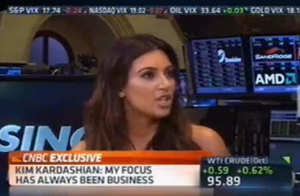 After many months of campaigning, sitting at the tail end of two weeks of political conventions, many of us have grown weary of punditry and daylong cycles of outrage. Recognizing the problem, CNBC's Maria Bartiromo shook things up on Wednesday afternoon, turning to reality television star Kim Kardashian for her view of today's economy.
Kardashian paid a visit to the financial news network to discuss her partnership (alongside her sisters) with cosmetics company BOLDFACE for the Kardashian Khroma Beauty line. During the appearance, she covered quite a few topics, from her party girl image and the cosmetics line to…the economy and upcoming election.
Given that she was discussing her business venture, Bartiromo asked the "burgeoning businesswoman" for her take on the economy. Kardashian replied:
I think that we've made definitely some adjustments in the way that we do our buying for our Dash clothing stores. It's a typical boutique, and we've made some adjustments. I have found that within our brand selling to mass, but making the quality as luxury as possible, to mass, is definitely the way to go. It's definitely a way to sustain retail shops…Our product in this kind of economy.
Bartiromo concisely paraphrased, "So, make it accessible to folks."
Toward the end, she also mentioned Kardashian's upcoming trip to the Democratic National Convention, and asked who she's supporting. She responded that her household is split, half Democrat and half Republican, making it difficult to talk politics at home. "It's a big war in our house," she said, with Bartiromo drawing a parallel to the country's partisan divide. "I think I'm really just educating myself and heading down there tomorrow to check it out. That's about it," Kardashian said.
So now you know (regardless of whether you wanted to).
Take a look, via CNBC:

Have a tip we should know? [email protected]