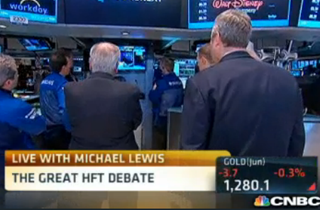 What started out as an innocent CNBC Power Lunch segment to promote a book rapidly devolved into a heated, ugly, ad hominem brawl about high-frequency trading and the future of the stock market — and was apparently so intense, traders at the New York Stock Exchange stopped working in order to watch the melee.
It all began when IEX's Brad Katsuyama, the head of a Wall Street trading platform and a broker heavily featured in Michael Lewis's new book Flash Boys, accused BATS Global Markets president Bill O'Brien of using underhanded tactics to screw over ordinary investors. "I believe the markets are rigged," Katsuyama said when prodded by O'Brien, "and I also believe you're part of the rigging."
Specifically, Katsuyama and Lewis (who also appeared on the segment via satellite) accused O'Brien and his ilk of using sophisticated computer algorithms that comb through the internet to make millions of trades at speeds impossible for a human to keep up with, a practice known as high-frequency trading. (It's the type of trading that, for instance, caused the stock market to momentarily crash when a hacker used the AP's official Twitter account to claim that Obama had been injured in an explosion at the White House.)
Naturally, this kind of market vehicle makes Wall Street a lot of money, and O'Brien wasn't happy to be accused of rigging any game. "Shame on you, Michael and Brad, for falsely accusing literally thousands of people, and possibly scaring millions of investors, in an effort to promote a business model," he said.
And once Lewis himself was brought into the debate, it just got nastier, with O'Brien accusing Lewis of outright lying about key parts of his book.
The highlights of the debate are below:
And here's the full 23-minute segment, in which you can actually hear the traders on the NYSE's floor cheering and booing the participants (and is, frankly, the thing you should watch if you have time):
[CNBC]
>> Follow Tina Nguyen (@Tina_Nguyen) on Twitter
Have a tip we should know? tips@mediaite.com