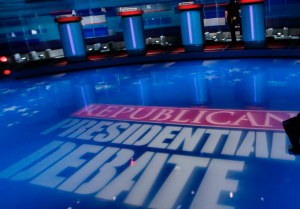 Three debates. Three huge audiences for Fox (24 million, first GOP debate), CNN (23 million, second Republican debate) and CNN again (15.3 million, first Democratic debate) respectively. It's good to be in the cable news business these days, as a rising (and apparently now falling) Trump lifts all boats regardless of the party featured on stage.
Wednesday night's GOP debate moves to a different kind of cable news venue in the form of CNBC. Different because, obviously, CNBC dabbles in politics but primarily is a business news network. Regardless, it has a solid moderator lineup in Carl Quintanilla, Becky Quick, and John Harwood. Rick Santelli, Sharon Epperson, and Jim Cramer will also be questioning the candidates as well.
So what will the final number be? From all appearances, interest in the election and particularly in the Republican field still appears to be high. The World Series (Mets-Royals Game 2) airs at the same time, sure, but this isn't your father's World Series, at least from a ratings perspective. And Ben Carson overtaking Trump nationally in a new CBS News/New York Times poll means the Howard Stern ratings rule is now in full effect as it pertains to the billionaire in this sentence.
What's the Stern rule? I give you a classic scene from Private Parts between a marketing researcher at Howard's radio station at the time (WNBC in New York) and his then-programming director Kenny Metheny (dubbed Pig Vomit by Stern):
Researcher: The average radio listener listens for eighteen minutes a day. The average Howard Stern fan listens for – are you ready for this? – an hour and twenty minutes.

Pig Vomit: How could this be?

Researcher: Answer most commonly given: "I want to see what he'll say next."

Pig Vomit: All right, fine. But what about the people who hate Stern?

Researcher: Good point. The average Stern hater listens for two and a half hours a day.

Pig Vomit: But… if they hate him, why do they listen?

Researcher: Most common answer: "I want to see what he'll say next."
I want to see what he'll say next… that's the Trump factor that just got more unpredictable now that–at least in one national poll and two in Iowa–he's looking up at Carson. The (much) larger audiences are also a result of a greater interest in presidential politics in general: A recent CBS poll shows 70 percent of those surveyed find the campaign interesting, compared to just 40 percent who felt the same way in 2011.
So forget what makes for pragmatic politics, it's the ultimate in reality TV programming. All of that said, the audience prediction here for CNBC is a nice, neat 20 million. CNBC appears to feel the same way, as the network is charging $250,000 per 30-second spot (all sold), or 25 percent higher than CNN charged ($200,000) for its Republican debate in September.
Whatever the final viewership number turns out to be, one thing's for sure: we're a long way from the debate viewership of the last election cycle. For context around CNBC drawing even six million, let alone 20 million, try this on for size: when CNBC hosted its only Republican debate four years ago (November 9, 2011), the network drew just 3.332 million viewers.
Trump's up. Trump's down. As long as he isn't out, it's good to be in the debate hosting business these days.
— —
Follow Joe Concha on Twitter @JoeConchaTV
This is an opinion piece. The views expressed in this article are those of just the author.