CNBC Hosts Press John McCain To Blame NRA's 'Willful Lying And Coercion' For Gun Bill's Failure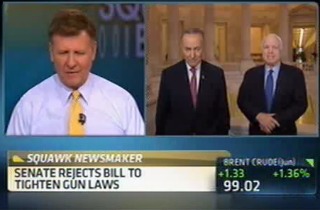 During an appearance on CNBC with Sen. Chuck Schumer (D-NY) on Thursday to discuss an upcoming legislative push for immigration reform, Sen. John McCain (R-AZ) was asked about the Senate's failure on Wednesday to pass any new gun control laws. McCain was pressed by the CNBC hosts to blame the National Rifle Association's intractable opposition to new gun laws in the wake of the Newtown massacre for the Senate's failure to pass even an extended background check law.

RELATED: 'Pretty Shameful Day For Washington': Obama Rips Senate Failure, Calls Out Gun Lobby For 'Willful Lies'
"Your thoughts on what happened yesterday and where do we go from here?" asked CNBC host Andrew Ross Sorkin.
"I regret that – I thought it was, the Manchin/Toomey compromise, was reasonable," McCain replied. "I think we'll probably be revisiting this issue sometime in the future."
"I've been involved in the gun control issue for over 20 years," Schumer said. "We've been through 20 years where you couldn't get anything done. I think that's changing."
"Was the president right to blame the NRA?" Sorkin asked.
"There are various interest groups that always weigh in on whatever the issue of the day is," McCain answered. "The NRA weighed in heavily. They were successful. Different groups…"
"They weren't weighing in," interjected host Joe Kernen. "They were willfully lying, and…"
"The president was pretty strong," Sorkin agreed.
"It didn't sound like your average lobbying unless everybody does willful lying and coercion," Kernen added.
"I can't blame any interest group for votes," McCain responded. "People that are responsible for their votes are the ones that take the votes."
Kernen noted that Sen. Dianne Feinstein (D-CA) added to gun rights advocates' sense of paranoia when she said that she would propose an outright ban on guns if she could find the votes for it. McCain said that every senator can and should say whatever they want to say.
Schumer replied that some Democrats are wrong in their narrow interpretation of the Second Amendment. That said, the bill that failed in the Senate yesterday "doesn't interfere with the rights of any law-abiding gun owner."
"This is a terribly emotional issue – of course it is – and I think the American people will continue to be engaged in this debate," McCain concluded.
Watch the clip below via CNBC:
> >Follow Noah Rothman (@NoahCRothman) on Twitter
Have a tip we should know? tips@mediaite.com