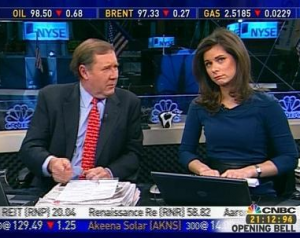 CNBC anchor Mark Haines has died, the network said Wednesday morning. CNBC president Mark Hoffman called Haines a "building block" of the financial networks' programming.
"With his searing wit, profound insight and piercing interview style, he was a constant and trusted presence in business news for more than 20 years," Hoffman said in a statement to CNBC employees. "From the dotcom bubble to the tragic events of 9/11 to the depths of the financial crisis, Mark was always the unflappable pro.," said Hoffman. "Mark loved CNBC and we loved him back. He will be deeply missed."
The New York Stock Exchange paused for a moment Wednesday in honor of Haines. CNBC reports news of Haines' death came as a shock on the trading floor:
Traders at the normally bustling New York Stock Exchange paused for a moment of silence.

"He worked his way into this community very well. When the news popped out this morning it swept across the floor in a manner usually reserved for some large geopolitical event that moves markets," said Art Cashin, director of floor operations for UBS. "Everybody was riveted."
Haines, who was 65, had long been one of the people most identified with the business network, serving as host of Squawk on the Street. Haines joined CNBC in 1989:
Haines is the founding anchor of the network's signature morning show, "Squawk Box," and helped develop its format.

A broadcast veteran who served as a news anchor for KYW-TV in Philadelphia, WABC-TV in New York, and WPRI-TV in Providence, Haines joined CNBC in 1989.

Haines holds a law degree from the University of Pennsylvania Law School and is a member of the New Jersey State Bar. In 2000, he was named to Brill's Content's "Influence List."
The cause of death has not been released. More as it becomes available.
Watch CNBC's story on Haines' career here:
Haines recently said farewell to another of CNBC's best-known talents in an emotional sendoff to CNN-bound Erin Burnett.
Watch it here, from CNBC:
Have a tip we should know? tips@mediaite.com