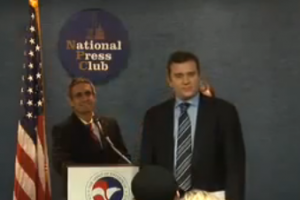 The Yes Men's provocative anticonsumerist pranks tend to be hit-or-miss, with some of their more outlandish stunts not quite clicking because no one could possibly believe them in the first place.
If fooling people is their measure of success, it looks like their latest looks like it's hit the bullseye: Reuters, The New York Times, The Washington Post, and CNBC all took a Yes Men press release that claimed to come from the Chamber of Commerce at face value.
The Yes Men claimed to be reversing the Chamber's stance on climate change issues. From the release:
WASHINGTON, D.C.-The U.S. Chamber of Commerce is throwing its weight behind strong climate legislation, a spokesman for Chamber President Tom J. Donahue announced today at the National Press Club.

"We believe that strong climate legislation is the best way to ensure American innovation, create jobs, and make sure the U.S. and the world are on track to reduce global carbon emissions, and to provide for the needs of the American business community for generations to come," said the spokesman, Hingo Sembra.
Shockingly, Reuters picked this up in a wire story, which the New York Times and Washington Post republished. And CNBC ran a whole segment on the Chamber's 'about-face.'
Their in-the-flesh press conference in DC wasn't as successful: Mother Jones reports that real Chamber of Commerce spokesmen showed up and shouted, "this is a fraudulent press conference!"
According to TPMMuckraker, the (real) Chamber of Commerce wants a criminal probe on the Yes Men impersonation stunt. But for a group that thrives on publicity, any sort of publicity, this could be exactly what they want.
Here's CNBC's segment on the Chamber of Commerce's stunning 'about-face' (h/t Mother Jones):
And here's a video of the fake press conference, courtesy of our friend Anthony De Rosa's post over at Gawker:
Have a tip we should know? tips@mediaite.com