CNBC's Larry Kudlow: Mitt Romney "Bungled" Stance On Tax Cuts As Obama Beats GOP In 2012 Poll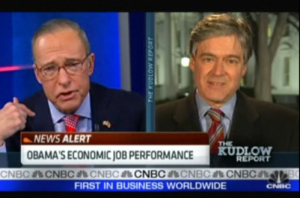 CNBC's Larry Kudlow took a look at the latest poll from The Wall Street Journal and NBC News and found a huge red warning flag for assumed 2012 presidential candidate Mitt Romney
Kudlow says Romney's on the wrong side of the tax cut deal struck by Republicans and President Obama, and "I'm not letting him off the hook."

Kudlow started off a segment with CNBC's John Harwood with the headline, "sounds like the public likes the tax cuts, John, but they're not sold on the president's ability to move us in the right direction. Harwood gracefully adjusts, saying in fact, the new poll shows "Obama's political temperature is a little bit higher than where I'm standing, which is freezing on the White House lawn."
Harwood pointed out that Obama's approval ratings is 45 percent, but 72 percent of Americans "like the president personally." Further, the poll found that the "shellacking" delivered in the midterm elections seems to have helped the president get the message. 64 percent say Obama's "gotten the message."
The poll includes largely meaningless head-to-head matchups between the president and likely GOP candidates, with Obama beating them all, including a 20-point lead over Sarah Palin.
But Kudlow pointed out, Americans support the tax deal (59 percent) and Mitt Romney did not.
Mitt Romney is losing to Obama. The public–six out of ten roughly–support the tax cuts. Mitt Romney opposed the tax cuts package. Mitt Romney would rather see tax rates go up across the board, 600 billion dollars drained from the economy. How big a mistake is that for Mitt Romney? I'm personally not letting him off the hook.
Kudlow concludes: "Romney really bungled this."
Watch it here, from CNBC:
Have a tip we should know? tips@mediaite.com