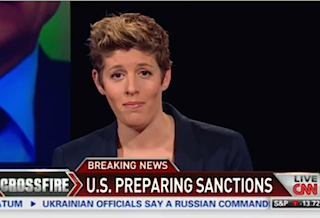 On Crossfire Monday, host Sally Kohn took on Republicans for "hurting America's standing in the world" by "systematically undermining" President Barack Obama's policy on the crisis in Ukraine. She found a sparring partner in the American Enterprise Institute's Danielle Pletka, who defended the conservative criticism of the president.
"Republicans are practically cheering for Vladimir Putin today," Kohn said at the top of the show's second segment. "He's given them a new excuse to bash President Obama." She went on to describe how Republicans are all over the media arguing that Putin would not be trying to invade Ukraine if Obama was not such a "weak leader."
"Aren't Republicans systematically undermining the president, trying to spite the president, but in effect hurting America's standing in the world?" Kohn asked.
Pletka shot back that Obama "has done more to hurt our standing in the world than the Republicans," but said that's not the point anyway. She pushed back on the idea that the GOP gave President George W. Bush a pass on his handling of Russia's 2008 war with Georgia.
"Instead of getting behind the president and together as a country uniting to deal with this crisis," Kohn lamented, "Republicans are out there undermining the president's leadership in the world," saying politics used to "stop at the water's edge."
"It's absolutely not true, it never stopped at the water's edge," Pletka said. "This is about national interests and about the security of the world."
Watch video below, via CNN:
[photo via screengrab]
— —
>> Follow Matt Wilstein (@TheMattWilstein) on Twitter
Have a tip we should know? [email protected]