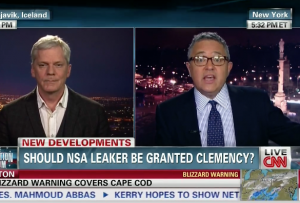 The question of whether Edward Snowden should receive clemency or not (it's a moot point; the government would never consider offering it, and if it did it might come with some strings attached) has been lingering in the minds of many a pundit these days, and during a debate Thursday on CNN about this topic, WikiLeaks spokesman Kristinn Hrafnsson defended Snowden and invoked the "Nuremberg principles" of doing the right thing in the name of a greater ideal. This really set off Jeffrey Toobin, who accused him of comparing the NSA to the Nazis.
Hrafnsson argued that Snowden did nothing wrong and welcomed the calls for granting his clemency.
"It is justifiable for whistleblowers to break the laws when it serves higher ideals. That is the Nuremberg principles that we should abide by. We have been saying that for years, and now finally The New York Times agrees with us."
He continued on to say that Snowden deserves a "hero's welcome." When it was Toobin's turn to weigh in, he was stunned that Hrafnsson would make that kind of comparison.
"[He's] implicitly comparing the actions of the United States here to the Nazis, who, of course, were only following orders like the NSA. That is a grotesque and absurd comparison, and it just shows how crazy these people are… who are supporting Snowden."
Hrafnsson insisted that he was just making a point that Snowden had an obligation to break the law in this case.
Watch the video below, via
[photo via screengrab]
— —
Follow Josh Feldman on Twitter: @feldmaniac
Have a tip we should know? tips@mediaite.com
Josh Feldman - Senior Editor