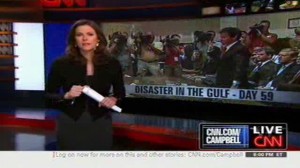 We have CNN's schedule for the 8pmET hour next week when Campbell Brown's out.
With all the speculation about what CNN's decision will be for the hour, what can we learn from this varied schedule?
I'm going to go with "just about nothing." But we have the schedule, so we'll let you know, and you can give your own thoughts in the comments. Also, we'll recap the week of speculation from around the media world.
Tonight, Don Lemon, a CNN Newsroom anchor, will be at the desk. On Monday, Larry King hosts a two-hour telethon for the Gulf oil disaster, similar to what he and CNN did for the Haiti disaster. Here's part of that release:
Guests include Justin Bieber, Deepak Chopra, Cameron Diaz, Philippe Cousteau, Ted Danson, Kathy Griffin, Chelsea Handler, Randy Jackson, Kerry Kennedy, Sammy Kershaw, Lenny Kravitz, Jenny McCarthy, Tim McGraw, Alyssa Milano, Aaron Neville, Edward James Olmos, Victoria Principal, Robert Redford, Gloria Reuben, Tyson Ritter, Richard Simmons, Ian Somerhalder, Sam Trammell, Melania and Ivanka Trump, Pete Wentz, with a special performance by Sting. Guests talk with King on set and via satellite and also participate in the program's telephone banks taking viewer calls, or in a special online Social Suite—hosted by Ryan Seacrest—for participants using internet social media such as Facebook and Twitter. Celebrity guests post live Facebook updates during Monday's telethon and the hashtag #CNNHelpGulf is used for viewers and online participants wanting to join the conversation on Twitter.
On Tuesday and Wednesday, we've gone John Roberts of American Morning anchoring, and on Thursday CNN airs Soledad O'Brien's latest long-form piece, "Gary and Tony Have a Baby." (More on that coming next week.) On Friday, CNN will have special programming at the hour (more on that coming next week.)
So now you know what CNN will decide to do about their 8pmET hour and prime time strategy as a whole, right?
Time to gossip:
• Piers Morgan will take over for Larry King in October, hosting four nights a week, says Page Six. Related: Piers Morgan TV resume.
• Eliot Spitzer is about to sign a deal to host the 8pmET hour, despite a "loss of credibility," says Daily Intel.
• Kathleen Parker is the "leading candidate" to pair up with Spitzer for the Crossfire-like show, says the NY Post today.
What about Spitzer, Morgan and Parker at 8pmET? And Larry King and Gary and Tony and their baby? Discuss.
—–
» Follow Steve Krakauer on Twitter
Have a tip we should know? tips@mediaite.com