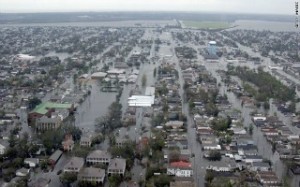 As Hurricane Isaac's trajectory shifts from the West Coast of Florida to the upper Gulf Coast, CNN has opted to send its most visible anchors to New Orleans to cover the storm. Isaac currently threatens to hit the Crescent City, exactly seven years to the day after the Hurricane Katrina made landfall.

Isaac's track has recently shifted to the Gulf Coast and is expected to become a Category 1 storm before it makes landfall somewhere between Florida's Panhandle and the Mississippi Delta.
With the expectation that the storm's damage could overshadow the Republican National Convention, also occurring this week in Tampa, Florida, CNN has sent Soledad O'Brien and Anderson Cooper to New Orleans to cover the storm's impact.
The political implications of this move cannot be ignored. Politico's Dylan Byers, chronicling the change in CNN's programming, quotes the Boston Globe's Glen Johnson who sees an opportunity for President Barack Obama to contrast his administration's response to Isaac's potential devastation to that of George W. Bush's administration in the aftermath of Hurricane Katrina in 2005.
Consider for a moment the juxtaposition of President Obama marshaling his administration's forces and personally visiting New Orleans or Mobile, Ala., in the aftermath of the storm's landfall, all while the convention hall is filled with delegates dressed in funny hats listening to partisan speeches.

Consider, too, the practical reality of the public and news media being forced to choose between watching a staged political event or coping with the aftermath of a natural disaster.
Johnson sees the potential for the GOP to cancel their convention outright if the devastation in the Gulf becomes so great that holding a political event begins to appear shallow in contrast. Byers is skeptical, but the New York Times – which owns the Globe – reports that the Republican party is deeply concerned about the optics of holding a convention amid a disaster in the Gulf.
Furthermore, the Times reports that the Obama administration sees a political opportunity in the storm:
But Tropical Storm Isaac threatens to fit just as neatly into that kind of narrative, with Mr. Obama seeking to paint Mr. Romney and Mr. Ryan as opposed to a government that takes care of its most vulnerable and intent on cutting just the sort of federal services that can be critical in emergencies.
h/t Politico
> >Follow Noah Rothman (@Noah_C_Rothman) on Twitter
Have a tip we should know? tips@mediaite.com