While carrying the George Zimmerman murder trial live this afternoon, CNN accidentally broadcast the defendant's full social security number, home address, and phone number on national television.
Sanford police detective Doris Singleton was in the midst of testifying about her interview with Zimmerman following his detention when the prosecuting lawyer pulled up a copy of the "narrative report" for the court to view. The court video feed then showed, in close-up, as the lawyer zoomed in on Zimmerman's personal information.
We've redacted the confidential information in the below screenshot: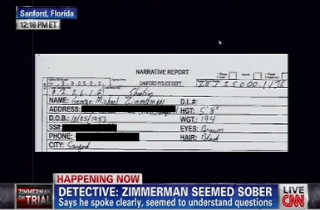 As the information continues to be shown before the court (but no longer on CNN), Zimmerman can be seen muttering to his counsel, possibly in regards to the confidential numbers now available to all in the room.
"Get that down, get that down," an unnamed person in the court can be heard telling the lawyer.
"Oh my god," the prosecuting lawyer exclaimed. "How can I clear it?" he asked before removing it from the in-court screen.
UPDATE — CNN says in a statement:
Routinely the evidence is first given to the Court Clerk for redaction, and that didn't happen in this instance. The Court is circling back to attorneys on both sides to make sure they give the Clerk's office the opportunity to redact the necessary information.
Watch below for in-court reaction as Zimmerman, et al, realize the confidential information is appearing before the entire court (and, seconds before, a national TV audience — but we didn't include that part, for obvious reasons), via CNN:
[h/t
Twitchy
]
— —
>> Follow Andrew Kirell (@AndrewKirell) on Twitter
Have a tip we should know? tips@mediaite.com