CNN Airs 'Officer's Side of Story,' as Recounted by 'Friend' of Darren Wilson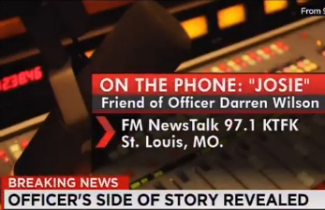 On Monday afternoon CNN aired audio from a radio interview in which an alleged friend of Ferguson, Mo., police officer Darren Wilson recounted the officer's side of the story.
Wilson fatally shot 18-year-old Michael Brown last Saturday, sparking a week of protests and international headlines. The officer's supposed friend, identified only as "Josie," called into The Dana Show on NewsTalk 97.1 KTFK to share his story.
According to Josie, Officer Wilson was aware of the convenience store robbery and had flagged down Brown and his friend Dorian Johnson for walking in the middle of the street. When he realized the description on the police radio matched that of Brown, he pulled up near them to get out of the car. That's when, as Josie told host Dana Loesch, Brown allegedly shoved the officer back into his cruiser and punched him in the face.
Josie alleged that Brown reached for Wilson's gun and, at one point, had it completely turned against the officer's hip. When the officer shoved the weapon away, it fired, she said.
"Michael takes off with his friend," she continued. "And they get to be about 35 feet away." Josie asserted that Wilson then followed police protocol by pursuing Brown and telling him to "freeze." She claimed that Brown "started hounding" the officer, suggesting he wouldn't actually fire the weapon at the teenagers.
"All of the sudden, [Brown] just started to bum rush him," Josie added. "He just started coming at him, full-speed, and so [Wilson] just started shooting, and [Brown] just kept coming."
And more: "So [Wilson] really thinks [Brown] was on something, because he just kept coming. It was unbelievable. And so he finally ended up, the final shot was in the forehead, and then he fell about two to three feet in front of the officer."
Josie was not officially verified as a friend of Wilson's.
After airing the audio, Don Lemon cautioned viewers that, as with any witness account, this is unproven and simply just another side of the story. However, he noted, CNN confirmed that Josie's account of the story matches what the network's sources say police have told investigators.
Watch below, via CNN:
— —
>> Follow Andrew Kirell (@AndrewKirell) on Twitter
Have a tip we should know? tips@mediaite.com