CNN Airs Two Days Of Specials Investigating 'How Congress Can Do Nothing' On Gun Control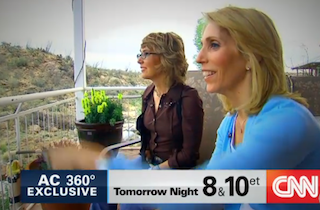 With gun control dominating much of the news cycle recently, CNN is going all in. Starting today, the network is airing a series of special reports on the issue, continuing with the coverage on Wednesday as well. The package, Guns Under Fire: A CNN Special Report on Background Checks, seeks to take an in-depth look at the national conversation surrounding the polarizing topic.
"According to the latest polls, 9 out of 10 Americans support tougher background checks," the press release notes, "so how is it that Congress can do nothing?" That's the question CNN appears to want to answer — or at least try to.
Piers Morgan, a gun control supporter if there ever was one, and Wolf Blitzer will be taking a look at the role of background checks, while Dana Bash interviewed former Rep. Gabby Giffords and her husband Mark Kelly — both of whom have spoken about their support for increased gun control despite owning guns.
The network has fairly long list of which CNN personalities will be exploring various aspects of the issues. For example, Candy Crowley will explore the question, "Are we moving toward federal gun registry?" Lest you think the coverage won't include the Almighty Magic Wall, John King is apparently going to put that to use.
It looks like CNN's goal is aimed to be informative, a type of explainer that can't be condensed into eight-minute segments with feisty panels. How it actually turns out, we'll have to see. It's no easy feat getting Congress out of its habit of doing nothing.
The full press release here.
Have a tip we should know? tips@mediaite.com