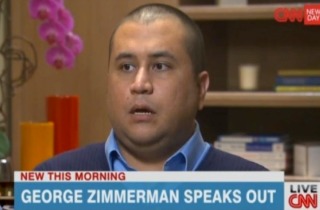 The best part of GQ's new and endlessly depressing profile on the George Zimmerman family is when Robert, George's brother, recounts the conditions under which the two of them agreed to an interview with CNN. In short, it involved taking CNN for all hotel minibar bottles money can buy.
CNN offered to pay for two Ritz-Carlton hotel rooms in Miami for three nights, plus "everything" the Zimmermans wanted during their stay, according to Robert.
From GQ:
The Zimmermans seized on their brief stint of subsidized luxury. They ran up a big room-service bill, cleaned out the minibars, got their clothes laundered, made several trips to the spa, treated a party of ten to dinner at the hotel restaurant, and bought swag—from bracelets to bath fizzies—at the gift shop.
The result was a $3,600 tab presented to Robert at the end of the stay. He sent it to a CNN producer who then supposedly told Robert, "You and your brother are evil!" (Mediaite has requested comment from CNN on the matter.)
Robert said he then had a near panic attack.
It gets both better and worse, emphasis added:
Unconsoled, Robert called the only person he could think of: [HLN's] Dr. Drew, who'd been kind to him when he went on Drew's TV show shortly before George's trial. He reached a producer, who told him Dr. Drew wasn't available. But the guy was nice, at least. He stayed on the phone awhile and talked Robert down. Eventually CNN agreed to pay the bill, and the next morning Robert returned the only purchases he could: a bottle of Mercedes-Benz cologne and a Ritz-Carlton wallet that George had bought him to say thanks.
In the profile, readers also learn that Robert is gay (it includes a charming quote from Robert that he will "never be able to fuck somebody without thinking, What's going to happen? Are they recording me?"); that he was paid $800 to do an interview on HBO's Real Time; and that George would not participate in GQ's profile because the magazine would not agree to pay for a week-long hotel stay a la CNN.
George was acquitted in 2013 for the killing of Florida teen Trayvon Martin.
[Photo via CNN/screen grab]
— —
>> Follow Eddie Scarry (@eScarry) on Twitter
Have a tip we should know? tips@mediaite.com