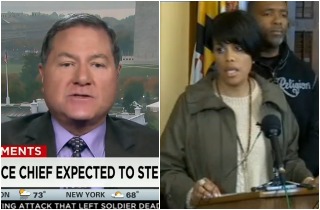 CNN law enforcement analyst Tom Fuentes went after Baltimore Mayor Stephanie Rawlings-Blake (D) for her "absurd" comments over the weekend that many said seemed as if she was justifying the violent protests that started on Saturday and further escalated on Monday.
"While we try to make sure that [protesters] were protected from the cars and other things that were going on, we also gave those who wished to destroy space to do that as well," Rawlings-Blake said at a press conference. "And we worked very hard to keep that balance and to put ourselves in the best position to de-escalate."
Fuentes told Jake Tapper that the mayor's comments were "so absurd" that he did not know what to say. He called on Rawlings-Blake to clarify her statement.
"Does she want to serve up police cars or other public buildings in Baltimore or public officials like the police, turn them into piñatas for the people to come out and whack at them so that they can get their aggression out of their system?" Fuentes asked. "I've never heard a statement like that. I think it's ridiculous."
For her part, Rawlings-Blake tweeted earlier Monday that her remarks were being taken out of context, and that she did not suggest police should give violent protesters the space to destroy property:
I want to clarify some remarks being taken out of context: I did not instruct police to give space to protesters seeking to create violence

— Mayor Rawlings-Blake (@MayorSRB) April 27, 2015
Taper acknowledged he had "no idea" what the mayor meant, but speculated that maybe she was referring to a strategy of allowing people to vandalize property in order to reduce the number of people who are hurt. Fuentes said such a strategy would be "difficult to contain" and would actually "lead to danger to the lives of the police" and to the public.
Fuentes was cut off as protesters began swarming a police cruiser, repeatedly smashing windows and jumping on top of it.
Watch the video below, via CNN:
[Image via screengrab]
— —
>>Follow Andrew Desiderio (@forza_desiderio) on Twitter
Have a tip we should know? tips@mediaite.com